Wedding Planners
At Spring Diaries Event, it's the passion of our wedding planners  to make your wow day  dreamy and memorable for you.  A day which your family and even your guests will remember for lifetime. We assure you that your marriage ceremony will be a celebration of love, a tapestry of delightful moments and togetherness. 
                               Additional services we provide are
Wedding venues: Our team believes in providing each and every service to our clients. starting from searching wedding venues. All destinations we provide have been carefully picked. We will help you find the best venue for your event depending upon your needs, expectations and budget
 Wedding and Reception Entries: We provide some amazing ideas for a grand entry on your special day which will make your presence even more special. We have some very fascinating range of vintage cars and amazingly designed props. These can used while the entry of bride and groom.
Wedding Stationery: Spring Diaries Events encourage getting a jazzy and modest custom wedding invitations for the marriage. We help in making and customising your wedding invite as per your taste and preferences.
Wedding Décor: We offer creative direction, logistics administration, custom design sourcing and creation, merchant selection, and guests attendant service. We design stylistic themes according to your personality, taste and budget. We customise our designs by changing the look of the venue by lighting, streaming textures, and traditional themes.
Miscellaneous
Photography and Cinematography: We have a team of expert photographers to capture your moments.Through these photographers you will be live the moment entirely again.The team also records some live moments in the form of videos which will let you revive your memories by watching it.
 Hotel Booking: We have a connection with a lot of hotels in the city and can help you get a hotel according to your budget and experience
Live Counters: We have some very skilled artisans who can prepare bangles and some more Rajasthani items.
 Fireworks: We can arrange fireworks as per your demand during baarat, entry of bride and groom or during vaar mala.
Bar: We have a collection of liquor too. The bar counter can be made available depends on the demand of our customers.
Artist Management:

We have been working with lots of Bollywood actors and actresses. We can arrange for a special performance by celebrities according to the preference of our customers.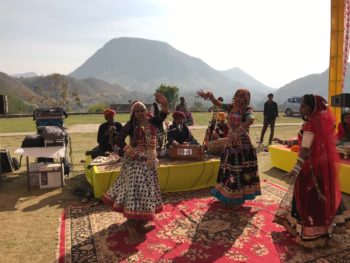 Dj: Our DJ offers remarkably customized music experience. Our music taste will make everyone feel like coming on the dance floor and will make the event lively and unforgettable.
Choreography:  We do understand that music and dance are the whole and sole of a wedding. And, for that, we have some amazing choreographers to train you and your family for special performances on your sangeet night.
Catering: Good food is the essence of every function and event. We have tied up with one of the best caterers in the city to provide you and your guest moutyh watering food and desserts.
Contact our executives to know more about us and the services we provide.